Wayne Township maintains two parks. These parks are heavily utilized by people of all ages and are used for many purposes. The parks are open every day from dawn until dusk, and we encourage you to take advantage of them.
The municipal park located behind the Wayne Township Volunteer Fire Company on Linnwood Drive consists of a playground, tennis court, basketball court, three pavilions and a baseball field. During the summer months the Summer Recreation Program is held at the municipal park for school age children. The Summer Recreation Program is under the direction of John H. Bailey, Director of Recreation for the Keystone Central School District and is sponsored by Wayne Township, the Keystone Central School District, Clinton County, the Clinton County Community Foundation and by local service clubs.
The Alan Gardner Memorial Park is located on the east end of the township and includes a boat launch area and pavilion. New playground equipment was installed at the Alan Gardner Memorial Park earlier this year.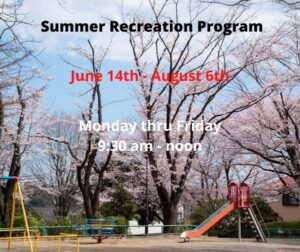 2022 Summer Recreation Program
 2022 Summer Recreation Program will begin on June 13th and will run for eight weeks ending on August 5th.  The hours for the program are 9:30 am to noon, Monday through Friday. There is no cost to attend the Summer Recreation Program which is for school aged children.
If you have any questions, please contact Rebecca Reeder, Summer Park Program Coordinator at (570) 660-2582.